Fumigation
Export Containers Fumigation by Methyl Bromide

We adopted the Fumigation Practices for Quarantine Purposes for Export and approved by National Standard of Phytosanitary Measures, & International Standard of Phytosanitary Measures for Export Containers, Wood Packing Materials, Grains, Pulses, DOC, & Ware House Godowns for our Clients.
We are also Accredited Company of Fumigation in India. Directorate of Plant Protection, Quarantine & Storage authorized us to undertake our fumigation services for Haryana & Uttar Pradesh, as per their strict recommendation and mandatory for a pest–free shipment on Export Containers, Wooden Packaging Material for Methyl Bromide
(As Per N S P M –12, & I S P M – 15.)
To get rid to Pest & Insect from your commodity for Grains, Pulses, DOC, Export Containers, Ware House Godowns & Wooden Packaging Material we provide our vogue services of Fumigation to you. Our Service Personals are Qualified, Quality Conscious and Trained from Indian Grains Storage, Hapur & Approved by Plant Protection Advisor, Govt. of Indian, Ministry of Agriculture, Department of Agriculture & Cooperation PPQS, NH-IV Faridabad (Haryana) India. Aluminium Phosphide Registration Certificate.
We ensure that only the best Fumigation Technology and Techniques be used. The Processes and Procedures are in confirmation with the rules & regulation laid by the National Standards for Phytosanitary Measures of India. We are authorized to undertake the Guarantee and issue of Fumigation Certificate to get Phytosanitary Certificate from local Govt. bodies in Haryana & Uttar Pradesh.

A Methyl Bromide Fumigation Procedures and Action

Methyl Bromide is an extremely toxic, odorless gas. The Indian Insecticide Regulations specify that Methyl Bromide used in fumigation treatments must contain a warning agent, typically 2% Chloropicrin. However, Importer should aware that methyl bromide with chloropicrin is phototoxic to live plants, cut flowers, fresh fruit and vegetables and seeds.
| | |
| --- | --- |
| * | Fumigation Site: Floor Gas-Tight, No Cracks or Drains, Floor Smooth, No Stones of Protrusions, In a safe working Area, Well Ventilated, Sheltered from Wind, Sun and Rain. |
| * | Prepare Commodity: Stacked to allow good circulation, Impervious wrappings removed or slashed, Commodity not impervious to fumigant. |
| * | Prepare & Install Equipment: Vaporizer filled and heating, Sheet of correct size and condition available, Monitor tubes installed, Gassing Pipes Installed, Fan Installed, Enclosure Sheeted and Sealed to floor with sand snakes, Measure enclosure volume and calculate dose, Establish and mark out risk area-place warning signage. |
| * | Prepare to Gas Enclosure: Ensure risk area and surrounds free of unprotected personnel, Turn on Fan, Prepare leak detector and ensure operational, Put on and test respirator, Release small quantity of gas and test fittings for leaks-correct if necessary. |
| * | Apply Gas to Enclosure: Check Vaporizer Water boiling, Release Gas dose from Dispenser or Cylinder–Check for Hot Gas, Check for leaks around enclosure correct leaks if existing. |
| * | Start Point Monitor: Turn off fan, Measure Gas levels on all monitor lines, Check to ensure all levels above standard, Calculate if equilibrium achieved, Turn of fans if necessary-repeat until equilibrium achieved, Ensure levels still above standard-record and document. |
| * | End Point Monitor: Measure Gas levels on all monitor lines, Check to ensure all levels above standard, Carry out Top Up Procedures, if appropriate, Declare Fumigation successful or failed, as appropriate-document. |
| * | Release Gas: Ensure risk area and surrounds free of unprotected personnel, Turn on fan, Put on and test respirator, Open enclosure and carry out ventilation procedures, Test for TLV re-ventilate until achieved, Remove warning sings and risk area demarcation. |
| * | Documentation: Complete all documentation and release fumigated goods. |
Treatment of Wooden Packing Material/Pallets/Boxes by MBR

The treatment is carried out to kill insect infestation that may be present in wood packing material (Wooden Pallets) the gas proof air tite chamber/200-330 GSM gas proof sheet at factory premises/ICD. Under this process the stock treated with approved gas Methyl Bromide (Fumigant) is released (After 24 Hours) or for certain exposure period.

Prophylactic Treatment & Anti-Fungal Treatment

We also suggest you that some times if the wood quality is not upto the mark and not suitable for export we must go for Prophylactic Treatment /Anti-Fungal Treatment of Wooden Pallets to avoid the borer, termite & fungal infestation of our wood packing material. If wooden packing Material will be wet, we suggest you to go for Anti-Fungal Treatment also to avoid the fungus infection.

The Preventive Measure-Prophylactic Treatment & Anti-Fungal Treatment

As the name indicates this treatment is objected at preventing infestation by prophylaxis action of chemical sprayed on wooden pallets for prophylactic treatment the chemical selected for spraying has to be the order of least toxicity. The treatment consists powerful toxicant so as to create a chemical barrier impregnable to termites & other insects. The processes & procedures are in confirmation with the rules & regulation of the Central Insecticides Board. Services rendered by us are in confirmation to IS: Specification also. We apply safest Insecticides with our modern equipments, which our 100 % effective to control the pest and insect and safe for human being.

TO PROTECT YOU'RE WOOD PACKING MATERIAL FROM TERMITE, WOOD BORER, OTHER INSECT & FUNGUS TREAT WITH INSECTICIDES APPLICABLE CHEMICALS:

CHLOROPYRIPHOS 20 % EC. CYPERMETHRIN 25 % EC , MALATHION 50 % EC, DICHLOROVOS 76 % EC, DELAMATHRIN 2.8 % EC, TURPENTINE OIL/ K. OIL.

FOR FUNGUS TREATMENT WE USE COPPER OXICLORIDE 50 WP
Fumigation treatment by methyl bromide
Aluminum phosphide

Storage Grains Fumigation by Aluminium Phosphide
Our main aim to procurement-inspection-preservation & distribution of the food grain. The purpose of storage food grain is for food-feed-seed & sale in the public distribution to maintain the rates.

STORAGE

The stock during storage, the care of the stock is to be considered that the hygienic condition of the storage point must be well up to the mark & check up floor of the godown-walls- rooftop & bottom of the bags layer.

PRE INSPECTION

Before storage of the food grains the following observation may be considered to avoid deterioration on account of quality & quantity.
Proper cleaningness
Leakage proof
Warranting repairing of the godown
Floor free from seepage
Godown should be disinfested
FUMIGATION

Fumigation is a process of applying toxic fumes of substance in a reasonable airtight chamber/stack for a certain period & intended to eliminate 100%, pest-infesting grain.

MAIN PESTS

Sitophilus oryzae, Rhiyopertha dominica, Trogoderma, Corda (Ephestia), Tribolium, Latheticus orizai, Gryzaephilus, Lernophilus, Psocids, Tremides, Rodents etc.

TREATMENT

There is two type of treatment are being applied to the stocks to maintain the soundness of the food grain for a long

(A) CURATIVE TREATMENT

The following chemicals used for curative treatment to eliminate the insect.



Aluminum phosphide
E.D.B.
M.B.R.
DOSE & CONSULTATION OF THE CHEMICALS

(1) Aluminum phosphide
The dose of Al.PH is 9 gm/m.t. in case of stock fumigation by cover & 63 gm/28 cubic meters in ease of chamber/shed fumigation with the espousal period i.e. 5 days & 7 days respectively. In CAP storage if khapra & termite found the dose would be used 20 to 25% extra.

(2) E.D.B.
The dose of E.D.B. is 22 gm/cubic meters in the cases i.e. stack/chamber fumigation with expose period of 5 says. In case of atmosphere temperature is above 20° C & 7 days on below 20° C.

(3) M.B.R.
The doses of M.B.R. are also 16/32/48/80 gm/cubic meter and this has been used in fumigation by rubberized cover only on the stack. The exposes period is 4/8/12/16/24/36/48/72 hours and M.Br. can be used for Export purposes only or one time in storage grains.

(B) PROPHYLACTIC TREATMENT

The following chemicals used for prophylactic treatment in due course.
(1)MALATHION
The delta is used as a prophylactic treatment to the stock with the conc. Of 1:100 ratios for 50 E.C. & applying the dose as 3 liter solution per 100 sq. meter with the priority 15 days & 21 days in winter season.

(2) DELTA METHRIN
The delta is used as a prophylactic treatment to the stock with the conc. Of 40 gm per liter of water & solution used 3 liter per 100 Sq. Meter once in three months only. But at the time of used this chemical, be ensuring that the chemical may also be used after degassing & proper bruising of the stock with in two days.

(3) D.D.V.P.
The D.D.V.P. also used as a prophylactic treatment & it is spray cum fumigant chemical, which used with the concentration of 1:150 on the following manners.
If the chemicals is using for crawling infestation on the floor & wall the dosage applying 3-liter solution per 100 meters.
In case of air charge to control the Ephistia (mouth) of the godown premises. The doses will he applying one liter per 280 cubic meters of the prepared solution of 1:150 time.
Fumigate Meaning
It Means Fumigants are applied where Regulations call for "Zero Insect Tolerance for goods or Premises or "Zero Discharge" strict production norms.
ISPM 15 Standard
ISPM 15 means 'International Standards for Phytosanitary Measures Publication No. 15 "it is developed by United Nations Food & Agriculture Organisation (FAO) addresses plant quarantine through the International Plant Protection Convention (IPPC).
This is Guidelines for Regulating Wood Packaging Material in International Trade'.
All the Technical Staff in our company has been authorized by the Ministry of agriculture to carry out fumigation with Methyl Bromide and Aluminum Phosphide gas.
Costing
The cost of fumigation depends upon mainly upon the type of commodity/premise being fumigated and gas being used. However rates are quoted on per cubic meter (cbm.) or cubic feet (cft.) basis. In the case of bulk grain/food items the rates are quoted on per MT (Metric Tonne) basis. Therefore, the exact calculation of the cost can be done only after knowing the volume of the goods and other logistics.
Fumigation Certificate
Fumigation certificate is required as proof that the packing materials e.g. wooden crates, wood, wool etc), have been fumigated or sterilized. Certificates contain details such as purpose of treatment, articles concerned, temperature range used, chemicals and concentration used etc.
Fumigation FAQ'S
What is fumigation ?
The National Standards for Phytosanitary Measures (NSPM) -11 defines fumigation as application of any chemical in a gaseous state in a gas tight enclosure to kill insect and other pests. According to the National Pest Control Association of America (NPCA), fumigation is the introduction of a toxic gas into a space in a high enough concentration so that the gas fills all areas to kill target insects.

What is a fumigant?
A fumigant is a chemical at a particular temperature and pressure that can exist in gaseous state in sufficient concentration and for sufficient time to be lethal to insect and other pests.

What are the commonly used fumigants for commodities in India?
Methyl Bromide and Phosphine are the two most common fumigants used for treating raw commodities, processed food and wooden packaging material. In hospital settings and pharmaceutical manufacturing, ethylene oxide fumigation is used for sterilization.

What are the differences between Methyl Bromide and Phosphine gas ?
Methyl Bromide (MBr) is a liquid under pressure that turns into a gas when released after heating. It is stored in cylinders or cans. MBr is highly penetrative, can kill insect eggs, highly toxic to a broad spectrum of insects and similar pests, and is lethal even in relatively short exposure periods (typically 24 hours for non-perishables). However, it reacts with food containing high levels of fat, certain types of rubber, etc, and is forbidden for some commodities.
Aluminium Phosphide (ALP) when allowed to react with atmospheric water vapour, produces phosphine gas. It is available in tablet form. ALP exposure periods are higher (typically 72 hours) and is not lethal to all insect eggs. However, ALP can be safely used for oil seeds and fatty foods like cashew nuts.
Both fumigants are highly toxic to humans and pets, and oprations have to be performed in a precise manner in the fashion prescribed by the national standards, as the fumigation treatments involve complex procedures.

How do I decide which fumigant to use for my cargo?
The Plant Protection Adviser to Government of India issues notifications from time to time (PQ orders) relating to the fumigant and dosage to be used for different commodities.
In case of shipments to Australia, only Methyl Bromide fumigations are acceptable.
Fumigation of Wooden Packaging (including dunnage) is mandated under the International Standards for Phytosanitary Measures (ISPM) -15, which recommends using Methyl Bromide only.
If you are in doubt, contact the nearest Plant Quarantine station, or a reliable fumigation company.

Will fumigating wooden pallets and boxes get rid of Fungal infection?
No.
Methyl bromide is very effective against insect pests, but is not lethal to commonly found fungal species. If you wish so, Green City Enterprises can perform anti-fungal treatment for your wooden packaging material.

Why should I come to Green City Enterprises?
Green City Enterprises have been in this business for more than 25 years. You can trust us to know a lot about fumigation.
Our highly skilled professionals are trained to deliver the highest quality fumigations possible.
We aim to offer you the best service in the most cost effective way.
1. Choose a fumigation agency, who is holding valid license Green City Enterprises issued by State Government and accredited by the Plant Protection Adviser of the Government of India, Directorate of Plant Protection, Quarantine & Storage, Faridabad.
2. Inform the fumigation agency before commencing the treatment, about the quarantine treatment requirements of the commodity, the composition of consignment; storage condition and place of the commodity; end use of the consignment; package conditions and specific market requirements ( fumigant residue limits, where applicable) and other contract or agreement requirements, where applicable.
3. Ensure sufficient time is available to perform treatments to meet the quarantine requirements.
4. Inform the transport contractor not to move the fumigated consignment or container until the degassing and release of the commodity or container.
5. Ensure proper stocking of consignment or placing container on the ground to facilitate carrying out proper treatment.
We carry out fumigation of containers, silos, bottling plants, godowns and ships according to the most stringent international standards. As a Government approved Fumigation agency, our certificates are valid all over the world.
Fumigation
It is a process where a fumigant which is a chemical at a required temperature and pressure can exist in gaseous state in sufficient concentration which will be lethal to a given pest organism. The most widely used fumigant in India are:
A) METHYL BROMIDE
B) ALUMINIUM PHOSPHIDE

A) METHYL BROMIDE FUMIGATION



Methyl Bromide is most widely used fumigant for Quarantine purposes. It is a preferred fumigant for most of the quarantine authorities around the world, because of its good penetrating ability, rapid action, high toxicity to a broad spectrum of insects and pests. It is frequently used for fumigating timber, agricultural products, empty containers, food stuffs and other agricultural produce. When fumigation is carried out with Methyl Bromide fumigant residue problems will not be there as aeration can be carried out easily. It is very effective in controlling all stages of insects from egg to the adult stage.
Quarantine Authorities around the world have stipulated that methyl bromide fumigation has to be carried out for all the packing materials which is made out of wood, Straw materials.
Fumigation Of Wooden Crates
Methyl Bromide fumigation should be carried out for packing wood crates skids and other packing materials.
Plant material such as straw, rice hulls and similar plant material used as packing material can carry exotic insect pest and diseases. The wooden crates has to be treated prior to shipment by carrying out fumigation with Methyl Bromide. The maximum thickness of the packing wood should not exceed 200mm.
B) ALUMINIUM PHOSPHIDE FUMIGATION
Aluminium Phosphide is in the form of tablets and is packed in a flask. It is used worldwide for fumigation of raw and processed commodities including grains, tobacco, cocoa beans, nuts seeds, animal feeds, tea leaf, coffee, wheat flour, processed spices, dry fruits. It can also be used for fumigating storage structures like silos, warehouses, flour mills, shipholds, railcars etc .

The major items in todays export market are commodities such as foodgrains, Oil seeds, Pulses, tobacco extraction, spices, textiles etc. and they are highly susceptible to infestation from stored grain pests during storage and transit.

For all stages of insect development of eggs, larvae, pupa and adult, fumigation is a curative control technique. Fumigation not only kills live infestations but also helps to check the spread of unwanted pests from one country to another. The art and science of fumigation is highly specialized and technical, requiring a great deal of knowledge, skill and experience (expertise) using Methyl Bromide and Aluminium Phosphide (phosphine) gas for its operations. Green City Enterprises is equipped to meet a wide spectrum of requirements.

Our licenced experts, specially trained in the use of fumigants, guide our operations. greater consideration is given to safety while using fumigants which are highly toxic gases. Advanced gas monitoring & detection equipment are used to improve the safety. Green City Enterprises offers fumigation of bagged commodities, warehouses, silos, containers and shipments.

When it is time to handle fragile and valuable cargo such as Carvings, Paintings, antiques and other priceless collections of museums, libraries and archives Green City Enterprises adopt Latest and appropriate technology.

Fumigation
Fumigation is a application of a fumigant to a fumigation enclosure to eradicate pests. We are a fumigation agency who is holding valid license issued by state Govt. & accredited by the Plant Protection Adviser of the Government of India, Directorate of Plant Protection Quarantine & Storage Faridabad.

We are technically competent to perform relevant treatment to meet the quarantine requirements. We are performing fumigations under supervision only. We advice the client on stocking of consignment for carrying out effective treatment. We inform the client of any factors that affect treatment of commodity. We are following the guidelines & abide by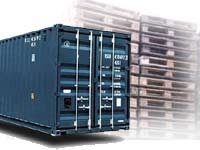 instructions issued by PPA. We request client to inform us about the commodity, the composition of consignment, storage condition & place.

We ensure sufficient time is available to perform treatments to meet the quarantine requirements.

A certificate issued as evidence that a fumigation treatment has been applied to a given commodity to control insect infestation as per standard.



Our Fumigation Services is for the treatment of stored products insects pests. Grains, pulses, oil cakes, etc., when stored become ideal colonies for weevils, beetles and other pests.
Fumigation is a specialised and delicate operation. It involves the use of extremely toxic pesticides and sophisticated equipments. The handling of such products is allowed only to the Government Approved and Recognised Agencies. We are not only one of them but the Number One, as far as the bulk of business that we transact and the number of clients we have, are concerned. Fumigation of export-cargoes, ships, large godowns, warehouses, etc. is our speciality.
Expert pest fumigation services undertaken with the following systems using available fumigants such as Aluminium Phosphide (Celphos, Uniphos, etc) and Methyl Bromide.

Ware House Fumigation:

It is done to fumigate commodities either in loose conditions or packed in bags or other packing, stored in godowns, warehouses, storage which are stationary. Separate stacks are fumigated by covering them with plastic covers and making them gaslight by sealing them.

Container Fumigation :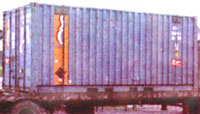 Commodities that are required to be shifted to other places immediately are fumigated in Containers, such as ship containers, Rail Containers, Truck Containers, etc. At present there are two types of Ship Containers available viz 20ft. size and 40ft. size. Consumables or edible products are never kept loose. Equipments, machines, metals, raw ores, raw minerals, etc may or may not be stored in loose conditions, in containers.